Happy Father's Day to all the dads out there that love their children. It takes a lot to be a good father, and even though you may wonder if your children are listening to you - they are. They are listening and watching and becoming who they are partly because of you. Knowing that you love them may be what keeps them going some days. Wanting to make you proud is something that matters to them, even if they don't know it or show it.
Happy Father's Day to the mothers who are raising their children alone, especially a special young mom who reads this blog. Its not easy to be the only parent. I learned about halfway through that I could simply not be a father and a mother. We are mothers doing doing it all, but we can't be fathers simply because we are women, not men.
The U2 concert was great, my friend had a wonderful time and that matters more to me than me having a good time. Our seats were insanely good - so close to the stage.
But hearing of Clarence Clemons passing right before we walked into the stadium really put a dark cloud over the evening for me.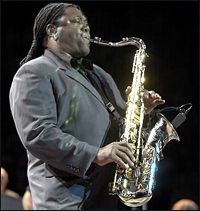 Yet, I felt depressed all day yesterday so I know it wasn't only losing a vital member of my favorite band of all time, its something more. I don't know what it is but I feel it deep inside me right now. The scary kind of depression that comes out of nowhere for no reason.
Going to visit Keven in a few hours. I'm nervous because no matter how cheerful I act on the outside, he can tell when I am sad and it hurts him. I don't want to cause him to feel bad just because I do. But I guess that's how families work.
Hope all of you are doing good. I will catch up on blogs as soon as I can.
Peace, Hope and Love, Barbara